What are the most valuable morning chores for college freshmen? An intelligent friend of yours might just speak of breakfasts and the showers. Not every institute gives you a chance to choose your breakfast. But for the latter part, a college shower caddy can be an asset for you.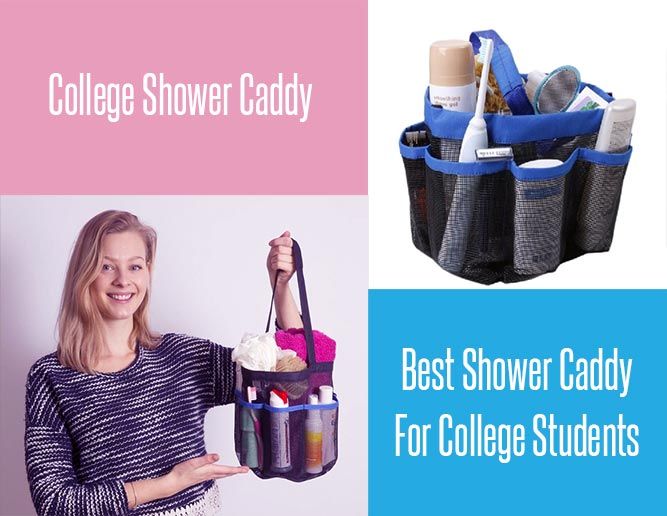 A student in college needs to save every bit of his time for studies. You can't spend hours on a shower. Also, you might just need to share a bathroom with your roommate. So you can't just leave your belongings in the bathroom. That's when you need an efficient way of completing your shower on time and manage your shower accessories as well. The dorm shower caddy is the answer if you ask.
A college shower caddy is designed especially for college students keeping in mind the portability and ease of use issues. These caddies save you a lot of your time by keeping everything you would need while in the shower within reach of your hands. Furthermore, these caddies are portable to help you carry them along easily after your bath. So a caddy for your dorm usage can turn out to be a life easing decision. And, do you know what the good news is? Getting one for you is not a big deal. You may get a variety of caddies to choose from on various online marketplaces and even the retail shop in your surrounding. So get something that makes your life easier at college.
Best College Dorm Shower Caddies 2023 Comparison Chart
Image
Caddy Name
Material
ShowerMade Portable
Shower Tote
Mesh Fabric

Check Price

Handy Laundry 7-Pocket
Shower Caddy Tote
Mesh Fabric

Check Price

Attmu Mesh
Shower Caddy
Mesh Fabric

Check Price

YaeloDesign Portable
Bathroom Mesh Tote
Mesh Fabric

Check Price

mDesign Bathroom
Shower Caddy
Plastic

Check Price

InterDesign Orbz
Shower Tote
Plastic

Check Price

mDesign Men's Bathroom
Shower Caddy Tote
Plastic

Check Price

All-black Unisex Portable
Hanging Mesh Shower Caddy
Mesh Fabric

Check Price
Types of College Dorm Shower Caddies
Mesh Shower Totes
Mesh shower totes for college are one of the best things you can have. These are like tailor-made caddies for the college students. The compact design of the caddies allows you to carry it to the bathroom, bring back to the dorm, and store properly with incredible ease. Moreover, these are lightweight and easy to clean. The mesh dries quickly as well. Mesh caddies have a variety of color option to suit both male and female students. The caddy easily carries your shampoos, conditioners, soap, razors, and anything that you would need in the shower.
Here are some of the top options for a mesh shower caddy for college:
1. ShowerMade Portable Shower Tote
ShowerMade Portable Shower Tote promises to take your shower game a notch up. Who wouldn't want a fabric that remains spotless and odorless over a period of their use? It makes your showers an easy and organized chore. It's a shower caddy that focuses mostly on what users want and need.
This portable mesh shower caddy is ideal for dorm usage. The fabric used is a mesh that allows air to pass and the tote to dry very quickly. The caddy also has an extra long hanging strap and is mold, mildew, and rust proof. It has three differently sized pockets to hold your stuff of different sizes. Also, the design of the caddy makes it super stable, and it doesn't flip even when it's vacant. The caddy is made up of a high-quality material firmly stitched promising a 2-year guarantee.
Features of ShowerMade Portable Shower Tote:
It comes with 3 different sizes of pockets to suit large or small toiletries.
Robust design will not flip over even when empty and it easily folds flat to travel.
Uses mesh fabric, so no mold mildew or rust and dries up real fast.
20″ Hanging strap to easily hang on faucet.
Easy to carry on the go.
2+ year lifetime.
2. Handy Laundry 7-Pocket Shower Caddy Tote
This tote from Handy Laundry is another great meshed dorm shower caddy. It's compact and portable and gives you a lot of storage space. The caddy design allows you to store your stuff of different sizes from large bottles to other small things. Add to that a fabric that won't smell or catch mold.
The 7-pocketed tote has ample of space to organize your bath weaponry. The mesh fabric permits the draining of water and quick drying of the bag. So its mold and mildew proof. The middle space is deep enough to accommodate a variety of shower accessories while the exterior has six pockets for storage of large bottles and keeping them ready for use. You can fold this super portable caddy when not in use and can even make it stand on the floor while you use it. A canvas handle is also attached for easy carriage and transportation of the caddy.
Features of Handy Laundry 7-Pocket Shower Caddy Tote:
Seven extra-large storage compartments comes handy to keep large shampoo bottles, soaps, and more.
6″ deep inner space gives ample room for bathing accessories.
Mesh fabric let's caddy drain quick and easy.
Canvas Handle to easily carry caddy with you.
Foldable and thus doesn't consume a lot of space while traveling.
Double stitched Mesh ensure better durability and weight carrying capacity of caddy.
3. Attmu Mesh Shower Caddy
Next great choice as your college shower caddy is the Attmu Portable Mesh Shower Caddy. It's a quick drying and easily cleaning mesh tote that is entirely free from molds and mildews. Like the other mesh caddies, it's highly portable and great for use in colleges, gyms, and while traveling.
Attmu mesh caddy comes with even more space. There are eight different pockets to store your large and small things ranging from large shampoo bottles to the smallest razors. Seven of these pocket are on the outer side for storage of your large bottles. One large pocket is in the center to take care of your small sized shower requirements. The Oxford mesh fabric is easily washable, drains the water then and there, and dries too quick. A handle helps you hang or carry the tote easily. The product relies on its quality and gives a 30 days money back guarantee.
Features of Attmu Mesh Shower Caddy:
100% machine washable and rustproof.
Robust double woven carrying handle.
Mesh fabric let's caddy drain quick and easy.
8 pockets to keep all your accessories easily.
4. YaeloDesign Portable Bathroom Mesh Tote
YaeloDesign's mesh tote is another feature packed quality shower caddy. The compactness and portability of the caddy make it a great choice for use in college. The mesh fabric makes the caddy free from smells and molds. Apart from these, the caddy works amazingly well for the purpose it's made. It gives you a lot of space that you might just need to buy some more products to fill it up.
YaeloDesign's shower caddy has 6 outer pockets and a large central pocket. You can use the outer pockets to store the large bottles of shampoo and conditioners and the central pocket for smaller stuff. The premium quality mesh fabric is free from mold, and you can wash and dry it quickly. A strongly woven strap lets you carry and hang it easily on the shower head. Last but not the least, there's a 30-days money back guarantee for dissatisfied users.
Features of YaeloDesign Portable Bathroom Mesh Caddy:
Double woven handles for stronger grip.
Easy to clean and use.
Portable.
1 spacious center compartment & 6 outer pockets which keeps all toiletries organized.
Plastic Shower caddies
A variety of plastic shower totes for college can give you a perfect blend of style and function. College students would like the design as far as looks and compactness are concerned. These are perfect to take from one place to another, and you can even travel with them. It's great designs team up with a wide range of colors to suit your taste just right. Plastic shower caddies have options for both male and females students.
Here are some of the best plastic shower caddies:
1. mDesign Bathroom Shower Caddy
mDesign Plastic Shower Caddy is another compatible and easily transportable caddy. The caddy is long lasting and offers ample space for a person's shower essentials. It would be a great tote for under sink and cabinet placements. All these features together make it a perfect fit as a college dorm shower caddy.
The mDesign Shower Tote is made from a high-quality durable plastic. It has four large compartments providing enough room to accommodate all your shower needs. You can store your soap, shampoos, conditioners, razors, shaving creams, loofahs and more. Internal handles are provided to carry the tote with ease. Several drainage holes are provided to make sure that water that goes in doesn't get retained in the tote.
Features of mDesign Bathroom Shower Caddy:
Compatible thus easy to carry while traveling.
Ample space with four large compartments to keep your shower essentials.
High quality plastic makes it really durable.
Drainage holes to easily drain out water from caddy.
2. InterDesign Orbz Shower Tote
InterDesign Orbz Tote is a great shower tote for college as well as home usage. It's tough and durable and gives you some extra space as well. Stay organized or travel with it, your choice. These elegant caddies work well and look great as a bonus. So this one is about both the style and organization.
InterDesign Orbz Tote is made from premium quality durable plastic. The caddy gives you more space than you would ask for. The tote has built in handles which make it portable and easy to handle. So this would be another great thing for your dorm usage. Its compactness would also be a stunning feature.
Features of InterDesign Orbz Shower Tote:
Premium quality plastic.
Amazing look.
Holes at the bottom of tote allows water to drain easily.
Built-in Handles.
College Shower Caddy for Guys
If you think shower caddies are a girl thing, you're all wrong. It's a convenience, and convenience can never be gender biased. So here's a couple of top college shower caddies for guys.
1. mDesign Men's Bathroom Shower Caddy Tote
The mDesign Men's Bathroom Shower Caddy is one fabulous choice. The four-slot plastic shower tote has a long-lasting plastic build. It can carry your soap, shampoo and other bottles, loofahs, razor, shaving cream, etc. Specially designed holes help in draining the collected water out.
2. All-black Unisex Portable Hanging Mesh Shower Caddy
Another amazing choice is the BlueSkyBos hanging mesh shower caddy. It's a light and extremely portable mesh shower tote. The hanging mesh shower caddy has a water, mold, and rust proof body of durable polyester. The caddy has one large and six small pockets that offer a lot of storage space within the compact body. The smart shower caddy is a perfect choice for college dorms.
10 Essentials for your Dorm Shower Caddy
So as we earlier saw, shower caddy for college dorm is a vital support. Now let's look at ten things that are essential for your dorm shower caddy.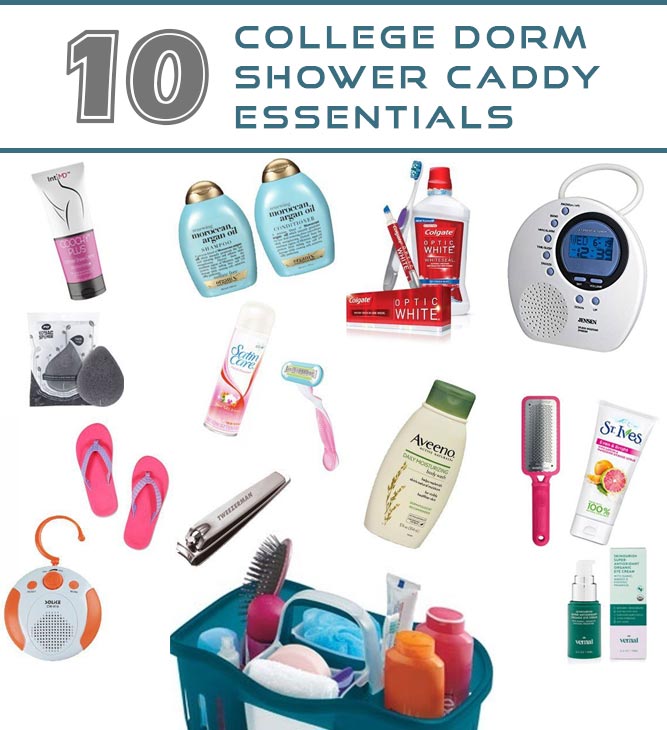 1. Flip Flops
Your bathroom is the place where you clean yourself. So there's no point in picking up bacteria's and harmful organisms there. Also, the chances are scarce that you get a well maintained and super clean bathroom in your dorm. So the very first essential for the dorm shower caddies is a flip-flop. Take them with you every time you enter your bathroom.
2. Shower gel with shower cloth
You need to wash your body well while you take a shower. That's the whole point of it. So why shower without shower gels? These gels would lather up and prepare your whole body for easy cleaning. Fresh smell is an added perk. And for body cleansing, get a shower cloth instead of a loofah. Loofahs can be a house to a lot of bacteria. A shower cloth on the other hand cleanses and have anti-bacterial additives to avoid bacteria.
3. Bar Soap
Bar soaps are something you are going to need on a daily basis. A lot of people like to use it daily to wash their body. You would also need it for washing your hands. Soap is what you are going to need the most in your bathroom. Hence having a bar soap in your caddy would be very much important.
4. Shampoo and Conditioner
Of course, you won't shampoo your hair every day. But then, you do need to shampoo at regular intervals. Sometimes you even enter the shower after spending some time with the dust. It's good to shampoo your hair after you've been around on your bike or been playing some sport. Also, conditioning your hair is as important. Don't forget to have these with your college dorm shower caddies.
5. Razor and shaving cream
This one would be important for the ones who like it all clean. To maintain a clean-shaven look, you would need to shave your face regularly. So why not keep a razor in your bathroom if you're to need it frequently. Also, a razor doesn't go without a shaving cream. So make some space for a razor and a shaving cream in your caddy.
6. Body and Face Scrub
It's a must to exfoliate the dead skin, dirt, and dust off of your face. Scrubbing once or twice in a week is highly required. That make your skin clean and glowing. Same is for your whole body. So the point is, you are going to need a body and a face scrub at least once in a week. Club them in your shower essentials as well.
7. Shower Cap
Sometimes you might just need a quick shower. As a student with a tight schedule of classes and studies, you may face the situation pretty often. Even the daily hair wash is not very healthy for your hair. So you would need to protect your hair for a quick rinse off. Put on a shower cap and wash your body. It saves your hair from getting wet and also your time.
8. Moisturizers
Want your skin to glow and shine throughout the day? Moisturizing is the secret to healthy skin. Moisturizing your skin just after you finish your shower can achieve this for you. So keeping a body and a face moisturizer in your shower caddy can be beneficial for your skin. You can use them after your shower. If you prefer hot water shower, skin moisturizing becomes even more critical.
9. Toothbrush & Toothpaste
Although not a shower essential, keeping toothbrush and toothpaste in your bathroom shower caddy can save you some precious time. That way you won't need to brush your teeth and then rush to your bathroom for the shower. You would just enter the bathroom, do all your chores in a single go, and come back ready to go.
10. Shower Speaker
Showers aren't bound to be boring. You can spice things up in you bathroom. You can have fun in the shower with your most favorite music just in case that suits your style. Taking your smartphone in to serve the purpose can be risky. You might just ruin it in water. Getting a shower speaker is way too better an idea. These can stick to the walls and are waterproof.
Wrapping Up
When you're off to a trip to graduation, your life changes suddenly. You need to cut your time from other jobs and focus on academics. A college shower caddy is an important part of the measures you take to cope up. You can move them swiftly and keep all your shower requisites at a single place. Can it get any better for a student?
Related Buyer's Guides and Lists: