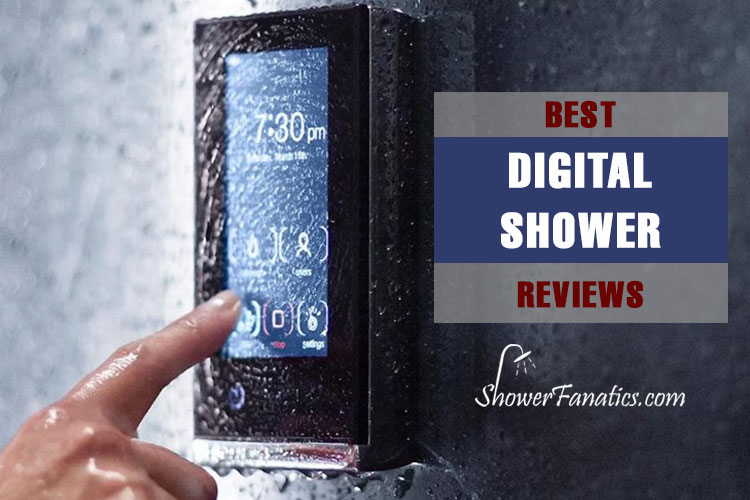 With new innovations in the bathroom industry, digital showers have become the latest thing to enter our bathrooms and with the advanced displays and multiple settings, these showers are slowly becoming very popular among people who want to have a luxurious bath experience. With wireless control units, voice control and advanced thermostat settings, these digital showers can transform any bathroom into a state-of-the-art luxury space. To help you get the right digital shower control system within your budget for your home or office, we have compiled a list of five best digital shower reviews to help you find the best digital showers for your bathroom.
Our Top Pick for the Best Digital Shower
The Moen U Shower Smart Home Connected Bathroom Controller is our pick for the best digital shower unit as it is sleek, elegantly designed, and comes at a reasonable cost as compared to its features. It offers you multiple options in terms of the number of outlets you can connect to the controller unit. The LCD screen and the smartphone app make it easier to set the controls and selection of presets. The shower system is easy to install and operate. The soft touch buttons are a breeze to operate and the stylish metallic design goes well with the existing bathroom accessories.
---
Best Digital Showers for 2023 – Quick Comparison
---
Top Rated Digital Shower Reviews for 2023
1. Moen U Shower Smart Home Connected Bathroom Controller
With five outlet options to choose from, the Moen U digital shower controller allows you to pre-set your preferred water temperature so that you do not have to change the settings every time you shower. You can operate this shower controller from your smartphone using the app designed by the company. The bright LCD screen is easy to read and can be controlled with the soft-touch buttons which allow you to change outlets, temperature, and flow direction along with pre-setting your favorite settings. With 12 personalization options, this shower controller is easy to install and has a neat design. The price of the controller is reasonable as compared to other digital showers.
Pros
It offers 12 customization options and can be controlled through buttons, phone, and voice.
The smartphone app is easy to use and can be used to pre-set your favorite settings.
The controller is easy to operate with the soft-touch buttons and is easy to install.
There are multiple outlet options to choose from depending on your shower system.
Cons
You cannot control the water volume or flow rate through the controller.
The finish of the controller is not at par with some of the other digital shower systems.
Why should you buy it?
The Moen Digital Shower control is a great option for people who are on a budget as it offers some great features at a reasonable price. It is easy to use and offers freedom of control with multiple personalization options.
---
2. Moen TS3415 IO/Digital Shower Control
Another great digital shower system from Moen, the TS3415 IO shower system has a very classy design in chrome finish. It is very compact so it works well for smaller bathrooms. The shower controller uses the universal M-Pact system which projects a single stream of water when you shower. It is easy to install and can be synchronized with the existing plumbing by a technician. The number of features in this shower controller is limited and you can control the temperature using a knob on the panel. The controller comes with a limited lifetime warranty and the price is a bit high as compared to the features of this model.
Pros
The controller is very compact in size and can be fitted anywhere easily.
The chrome finish adds a cool grey look to the model which matches well with other bathroom fittings and accessories.
The universal M-pact system helps to save water and energy.
The controller works seamlessly in controlling the water temperature.
Cons
The controller does not come with a digital display and has limited features.
The price of the controller is a bit high for its design and features.
Why should you buy it?
This is a decent digital shower controller which is a great option to consider if you have a small space and are looking for an easy to install model. It has a classy design and makes it very easy to control the water temperature.
---
3. KOHLER K-527-1CP DTV Prompt Digital Shower Interface
One of the most affordable digital shower controllers on this list, the Kohler digital shower system is available in three color options and is suitable for single or dual outlet shower systems. It comes with three raised soft-touch buttons and a bright LCD display screen for ease of use. The DTV prompt system allows you to control your shower settings with more precision and is flexible enough to switch between different showering components. You can also toggle between different outlets using a simple push button located on the controller. The price of the controller is quite affordable as compared to some of the other models.
Pros
The price of the controller is quite affordable as compared to its features.
The simple interface and classy display make it easy to control and set shower settings.
The DTV prompt system allows the user to switch settings easily.
The three color options help you match the controller to your existing bathroom fittings.
Cons
The shower controller is a bit difficult to install and needs a certified technician.
The LCD screen creates display issues after a few months of usage according to some users.
Why should you buy it?
This digital shower controller from Kohler is the preferred choice if you are on a budget and want an eco-friendly showering system. The DTV prompt system allows the user to customize their shower experience with great precision and control.
---
4. GOWE Digital Shower Control System
If your budget permits to go for a slightly higher model when it comes to buying a digital shower controller, the Gowe digital shower temperature control system is one of the best digital showers for environment lovers. It has a stylish and eco-friendly design and gets shut down automatically after 18 minutes to help save water. It also comes with an alarm to alert the user when the temperature of the water becomes too high. The stylish design also prevents backflow when the cold and hot water pressures do not match. The big display LED screen helps you keep an eye on all the controls easily. The price of the model is high but the features make it worth the cost.
Pros
The sleek and stylish design of the controller with a large LCD screen makes it easier to check the control settings.
The shower comes with an automatic shut-off feature and alarm for high water temperature.
The controller prevents water backflow if the pressure of hot and cold water does not match.
It is easy to install and operate.
Cons
The price of the digital shower is very high.
The control knob is not fitted very well so it might get damaged if too much pressure is applied.
Why should you buy it?
This shower controller might be expensive but it is great in terms of aesthetics and features. The auto shut-off and the alarm features help save water and energy and the flowback prevention design helps to control the temperature more efficiently.
---
5. KOHLER K-99693-NA DTV Plus Digital Interface
Combining showering, lighting, and music in one interface, the Kohler K-99693 digital showering system is definitely the best bet to consider if you are planning to convert your bathroom into a luxurious relaxation space. It is quite expensive but the sleek and modern design with six customizable presets provides a spa-like atmosphere for the user. The controller even has hydrotherapy and chromatherapy options along with steam settings. It is easy to install and can be used to connect up to three interfaces. With a warm-up and pause function and a countdown timer, this digital shower will transform your bathroom space completely.
Pros
The shower controller combines steam, music, lighting and shower to give you a relaxing experience.
It comes with 6 customizable presets along with hydrotherapy and chromatherapy options.
It is very easy to install and can be used to connect up to three interfaces.
The controller also has a warm-up and pause function and a countdown timer.
Cons
The price of the shower controller is very high and it is one of the most expensive digital shower systems you can find.
The controller takes some time to adjust to the setting changes.
Why should you buy it?
Despite being very expensive, this shower controller is a great investment for people who look for something more than an average showering experience. It has a lot of additional features as compared to regular digital showers.
---
What are Digital Showers?
Digital showers are shower units which come with a digital thermostat and a controller which can be operated either through buttons or wirelessly. These showers offer a customized shower experience as they display the water temperature and the pre-set shower settings to the user in an elegant format. You can pre-programme these controllers to be able to enjoy a great shower whenever you step inside your bathroom. These showering systems give a great amount of control to the user and are compatible with most plumbing systems. They can be a bit expensive but transform your bathroom significantly. Here are some digital showers pros and cons for you to consider:
Digital Shower Pros
They are quite easy to install and operate as compared to complex shower panel systems.
The digital shower controllers offer full control to the user in terms of water temperature, flow rate, water usage, etc.
The controllers can be operated remotely or through the simple soft buttons situated at the panel.
The display screen makes it easy to keep a check on the controls.
Some models also come with light and music settings to elevate the whole experience.
You can customize different presets for your family members so that everybody can enjoy their own desired shower settings.
You can also enjoy spa therapies in some of the advanced digital shower controllers.
These controllers do not occupy a lot of space so they can be fitted easily in even the smallest of spaces.
Digital Shower Cons
They are definitely a little more expensive as compared to traditional shower systems.
Some models require certified technicians to install them.
The digital thermostat might not show the correct reading at times if the settings are not customized properly.
---
Benefits of a Digital Shower System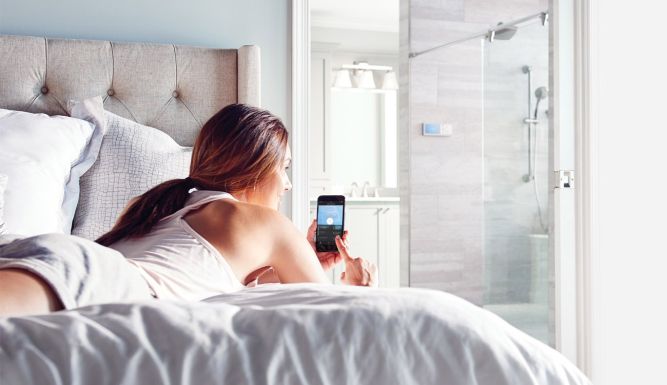 Here are some of the main benefits of installing a digital shower system in your bathroom:
1. You can control the water temperature and flow rate
One of the biggest advantages of a digital shower system is that it allows you to control the water temperature very efficiently since it uses a thermostat. You can also control the flow rate and water direction including the outlet options. Some devices also offer many advanced presets with spa settings.
2. You can control your shower using Wi-Fi or Bluetooth remotely
A digital shower can be controlled using the buttons on the shower controller or wirelessly using the Wi-Fi or Bluetooth. Some advanced models can also be controlled using voice using home devices like Alexa or Echo. This makes it easier to install the controller unit at any location inside or outside the bathroom as you can control it through your smartphone also.
3. The LCD screen displays settings in an easy-to-read display format
Most digital shower systems come with an LCD screen which displays all the temperature and pressure ratings on screen and makes it easy to operate the shower at night. This screen also adds a touch of luxury to the shower system and makes it look more modern than the traditional mixers.
4. Eco-friendly settings save water and energy
Digital showers are generally more eco-friendly as compared to normal showers as they lead to less water wastage. You can also set an optimum water flow rate and use the auto shut-off feature to save more water and energy.
5. You can pre-set your favorite settings
Most digital models come with a preset feature which makes the controller remember your favorite shower settings. You can also choose from other customizable presets and allot one preset for each family member so that they can all enjoy their customized showers every morning.
---
Factors to Consider before Purchasing a Digital Shower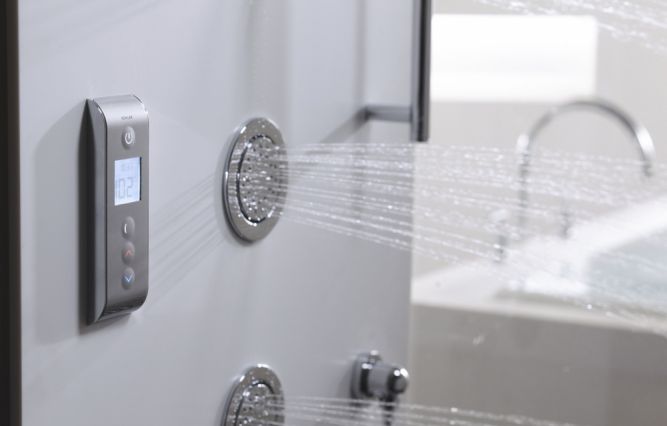 Now that we have introduced you to five best digital showers and have explained them in detail in our digital shower control reviews, here are some factors that you need to consider before purchasing a digital shower to get the most value on your investment:
1. Types of Digital Shower
Some digital showers are of the basic type which control only water temperature while some models come with advanced control settings and LED screen. The third type of digital showers is pumped showers which increase the existing water pressure of the shower. Few other types include the un-pumped digital shower systems, mixer shower systems, and electric digital systems.
2. Brands
It is very important to buy a digital shower system from a reputed brand which offers great service and customer support as these systems can be difficult to replace otherwise. Choose a brand which is known for its showering systems. Some of the reputed digital shower brands include Kohler, Moen, Gowe etc which are known for their shower models.
3. Research
Always do your research before purchasing a digital shower system as these systems are expensive and can ruin the whole experience if the right model is not chosen. Read the customer reviews of the product to get an idea of the features of the product. These reviews are shared by users who have bought the product so you will get genuine information about the product.
4. Reliability
The durability and reliability of the shower model is another important criteria to be considered while purchasing a digital shower as it is a big investment. Do not go for very cheap models which are not great in terms of quality and can break quickly.
5. Processor Box
The processor box of the digital shower model is the second part of the system which actually regulates the water temperature and mixes hot and cold water. An improper processor box does not maintain the right water temperature and can cause temperature shocks and the users might feel a temperature spike abruptly while taking a shower.
---
Frequently Asked Questions (FAQs) about Best Digital Shower Systems
---
Wrapping Up
So these are some of the best digital showers available in the market. These models declutter your bathroom while giving you precise control over the water temperature. With the customizable presets and ease of maintenance, investing in a good digital shower system can prove to be quite beneficial in the long run if you choose the right model. The Moen U Shower Smart Home Connected Bathroom Controller is the best digital shower system among all the above as it provides you with all the features of a good digital shower system and is not very expensive. The sleek and sophisticated design with digital display makes your bathroom look like a work of art. We hope you enjoyed reading this detailed compilation and must have made a choice by now as to which model you want to go for!
---
Related Buyer's Guides and Lists: