Are you contemplating on buying a shower head but you are daunting your choices because of the many options out there? If so then you should have a look at our detailed guide on the best shower heads in 2023.
A shower head with an optimal water pressure and a nice spray pattern means the world to many. After all, nothing beats the feeling of a hot water trickling down your body, whether it's the morning hours before you head to work, or it's in the evening when you get back home. However, it's frustrating when your shower head only lets out trickles of water. If the spray penetrating through the shower head's nozzles is not powerful, you will not get the opportunity to loosen up or enjoy a shower with a desirable water pressure. Even worse, you would have a hard time trying to rinse the shampoo from your hair or even direct streams of water to particular areas.
Luckily, if you have the bucks, you can always install a shower head with all the aspects that will meet your needs. Our article on shower head reviews of 2019 will help you narrow down your search. Keep reading to know how to choose a shower head that will serve the purpose.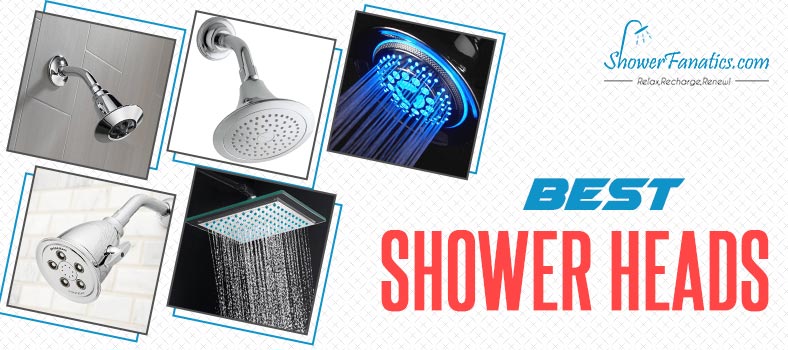 Best Shower Heads 2023 – Comparison Chart
Before we get into a deeper discussion, let's first look at the various types of shower heads out there. You will find the chart below useful when you want to compare shower heads in the market.
Top Three Most Unusual Shower Heads 2023
Some shower heads are designed to add an element of sophistication to your bathroom. If you are looking for something unique, you should consider any of these three shower heads:
1. AquaBliss High Output Universal Shower Head
The AquaBliss will make a huge difference if you live in a place where the water is either hard water or chlorinated water. It's fairly big, and the body looks like it is made of metal because of the chrome finish. Your shower fixtures will probably match the chrome finish. Besides having a unique design, this shower head is a water purifier. It removes chlorine and other impurities from the water. So, get this filter if you have an itchy scalp, dry skin, greasy hair, pimples all over, or your hair smells of chlorine. It will get rid of all those problems. The AquaBliss makes the shampoo lather well. Also, since it does not lose water pressure, it effectively rinses the soap. Once you install this shower head, your skin will become much smooth and softer. It will make you feel rejuvenated every time you walk out of the shower. Finally, you will cease all those trips to the dermatologists and spending on skin care products. This one will make a huge difference if you live in a place where the water is either hard water or chlorinated water.
2. Octopus Shower Head
The octopus shower head is another creative design that will thrill even your guests. It has a solid brass construction, and water comes out through 144 spray jets. Just like most shower heads, its flow rate is 2.5 GPM, but you can always get more by removing the flow restrictor. While its price is reasonable, your home must have high water pressure so that all the heads can spray evenly.
3. Captain's Wheel Chrome Rain Shower Head
Another shower head that adds a luxurious look to your bathroom is Captain's Wheel Chrome Rain Shower Head. With 12 spray arms connected to a large 8-inch head, its spray nozzles deliver a high pressure. Its construction is solid brass with a chrome finish. If your home has adequate water pressure, its sprays work marvelously. The sprays are not harsh on the skin, and the pressure is enough to rinse the soap from your hair.
Best Shower Head Reviews 2023
Perhaps this is the part you have been waiting for all along – honest reviews about the best rated shower heads on the market in 2019. Believe me! We would not have compiled this detailed list had we not personally tested the products ourselves. Also, we had to dig through thousands of consumer reviews just to know what others are saying about these products.
Here's our list of recommended shower head models:
1. Speakman S-2252 Icon
Indeed, the Icon Shower is the best bathroom shower head on the list of products we tested. It will give you a truly iconic experience – a feeling you haven't felt in a long a time. When you install it, you will go from having an arching lame spray to a full and hard spray. We are certain you will also love it, especially if you are addicted to water pressure, and it feels like you can't live without it. Its flow is substantial to rinse off the soap from hair, especially thick hair. The pressure is so marvelous you will be giggling like a little girl in the bathroom. And that is just one setting; switching the lever to a different setting will pump up the pressure. The pressure is so enormous it's like using a fire hose. At this level, the Jets will literary sting you.
With 48 incredibly powerful sprays, the icon shower head delivers a pleasant experience – it's like having one of those shower heads you find in a luxurious hotel. Its spray pattern is adjustable, and you can vary it from fine to big drops. If the Speakman S-2252 ever gets clogged, all you have to do is adjust its spray pattern, and all will be well. So is the Icon shower head a wise purchase? Yes, it is unless you are not a fan of high water pressure. Perhaps the only regret you will have is not buying this shower head sooner.

What we Like
It's pressure is fantastic.
It is beautifully engineered, which gives it a professional look.
It's design is compact with several built-in streams.
It's easy to set up. It only takes five minutes at most.

What we Don't Like
It uses a lot of water. Don't be surprised by abnormally high water bills.
It is expensive.
2. Moen S6320 Velocity
If you are looking for a shower head with a high water flow, and a rain spray pattern, Moen is also a good choice. Its large head, with a diameter of 8 inches will deliver an exceptional rainfall experience. The Moen S6320 shower head is so good you will want to wake up early so you can spend more time under this rain cloud. If you don't wake up early, you will probably be late for work since you will take more time in the shower. Even if you get in trouble with your boss for being late, the shower will be worth it. Unlike the Speakman, it produces a soft rainfall that brings a soothing feeling. When you don't want to feel the sweet rainfall effect, you can push the lever to get a high and focused pressure, which is good for rinsing purposes.

What we Like
It's easy to install.
It's well-built; hence it will serve you for a long time.

What we Don't Like
It's overpriced. Some shower heads can accomplish the same at almost half the price.
3. KOHLER K-10282
Unlike most other showerheads, the Kohler K-10282 is built with metal. It has a pretty good flow with a soft spray that is not invigorating. Just like Moen, it will enable you to experience a rainfall-like shower. Its flow is not overpowering; rather, it's soothing and relaxing. The sprays are forceful enough to rinse shampoo from the hair. You will enjoy your shower all the way even with the restrictor still in place. The anticipation to get home and use this shower head will just be too much. However, if you feel like the pressure is not enough, you can remove the restrictor. Even for homes that have low water pressure, this shower head will still offer a wonderful experience – a truly luxurious feeling. You can fix it as high as 6'1″, and the shower sprays will still cover your entire back. Even if you are 5'5″ or shorter, it will still give you good coverage.

What we Like
It produces a nice rainfall effect.
Installation only takes two minutes.
It has a good flow rate; up to 2.5 GPM.

What we Don't Like
The shower head is noisy compared to most standard shower heads.
Those mindful of water usage may feel like the shower head has a high flow-rate.
4. Ana Bath SS5450CBN
Do you enjoy taking a shower with another person? If so, meet the Ana Bath shower head, which has two high-pressure heads. This shower head is a game changer. Should you get it, you may end up standing in the shower for longer than you anticipated. The pressure might slightly reduce when both showers are running, but it is not something noticeable.
The Ana Bath is flexible, and it feels sturdy. It has lovely spray patterns with a decent flow. You can choose from having a hand shower, a fixed shower or both. Its hose looks like its metallic even though it's made of quality plastic with a nickel finish. Also, the hose is of adequate size; it's not too short or too long.

What we Like
You can use both shower heads at the same time.
There are no complications when installing the shower.
Its price is affordable considering it performs just like the top-rated models.

What we Don't Like
It consumes a lot of water.
5. Speakman S-2005
The Speakman S-2005 is big; it's at least 5′ inches wide. It's a big shower head and its spray is powerful and much focused. If you are not used to such pressure, you may have to tone it down a little bit. With the S-2005, you can choose from two settings; either pick the rain shower with a high water flow or go for the setting with 50 streams.
The manufacturer claims it has three settings, but when you get to use it, the in-between option they talk about is just a marketing gimmick. Its massage setting feels relaxing thanks to an internal impeller that is robust and large. When you switch to the rain shower setting, it's like being rained on in the Amazon Rain Forest only that this time round, it's happening in your shower, and the water is warmer.
When you play with the control lever and position it at 180 degrees, you will end up with a powerful and impressive massage jet. Because the Speakman has many jets, its coverage is wide. The water will cover every inch of your skin. Moreover, it will perform wonderfully even if the pressure from your water system is low. Many people seem to have a difficult time when removing the flow restrictor. However, with a curved hemostat or tweezers, you can poke it out.

What we Like
It has a massage setting.
It has increased pressure.
The installation is easy.

What we Don't Like
Without the flow restrictor, it uses up a lot of water. It is nice to have high pressure, but you will run out of hot water quickly.
Removing the flow restrictor can be tricky. So you better know what you are doing should you decide to disconnect it.
6. AKDY AZ-6021
This shower head has a gorgeous design that will make your bathroom look classy. With each side measuring 8-inches wide, it offers an extensive coverage. It's well built with solid heat resistant plastic. Also, the AKDY is lightweight, and it won't strain your shower arm. You should install this shower head if your house has poor water pressure. However, if you need a shower head with massage and deep cleaning capabilities, you have to look elsewhere.
This shower is so good; at times you will get mad that you are wasting so much water. Still, the feeling of hot water raining on you all over will make it up for the lost water. It's like being in a fancy hotel or a SPA while all along you are just in your own house.
Thanks to the rubber nozzles, you will not have to deal with the problem of removing calcium and magnesium buildup. You just need a brush to rub the dirt off. The best feature is that the shower head is adjustable. You may choose to have an overhead gentle rain shower experience or tilt its arm to get a regular body shower. Also, it has a hand shower option, which works well when you want to reach those hard-to-reach areas and when you want to clean the bathroom or your pets.

What we Like
It has a gorgeous design.
It delivers a gentle, concentrated rainfall.
It's simple to install and use.

What we Don't Like
It uses a lot of water.
The chrome finish/mirror finish will become dirty over time, but you can clean it up.
7. Culligan WSH-C125 Wall-Mounted Filtered Shower Head
If the water flowing through your pipes is hard or chlorinated, then you are probably dealing with problems like dry skin, brittle hair, and the shampoo is not lathering well with the water. Chlorinated water messes up the hair. But the Culligan WSH-C125 is the cure. It has a filtration system that purifies the water, removing chlorine and other water impurities. With this filtration system, the water is much softer. In fact, the Culligan has a test paper for testing the hardness of water.
Once you install this shower head, the natural "frizz" and texture of your hair will dramatically improve with time. It will wash away all the damage and abuse your hair has gone through over the years, making it softer. It will restore that soft-touch your hair is missing and it won't leave your skin dry. Every time you step out of the shower, you will feel much rejuvenated. Don't be surprised when you find that you are using less soap and shampoo. Also, it allows you to play around with different spray settings. If you want maximum water coverage, you can select the full-body spray. However, if you need a relaxing muscle massage, the stimulating pulse will do.
The Culligan is a wise option if your water system pressure is low. Its flow and pressure are substantial. In homes where the water pressure is decent, it will deliver hot water in seconds. Even with the restrictor in place, this shower head is efficient. Should you decide to remove the flow restrictor, you won't have a difficult time.

What we Like
It has a filter to purify the water.
It's durable and safe to use.
Installing it takes less than 15 minutes.
Your hair and skin will become much softer.
It is inexpensive.

What we Don't Like
The advertised 5-spray settings are just hype. Some of the settings do not seem to make a difference.
You would have to buy filters every six months.
8. Delta 75152
Have you missed having a good shower? The Delta 75152 will give you that experience you are missing. When the sprays from this shower head hit you, it may give you the impression of using more water while in reality, that's not the case. We recommend you get this shower head if the water pressure at your home or apartment sucks. It's powerful, water-saving, and its price won't dent your wallet. It is one of the shower heads that can give you full-spray performance while saving you on costly utility bills. Unlike other showers that deliver a fine spray, this one projects big droplets. Still, it will give you a consistent flow even if when the water pressure is low.
There will be a dramatic difference in your water pressure once you install this shower head. If you have thick or long hair, this machine will thoroughly rinse it, washing away the shampoo and conditioner. The pressure is so great it will shoot jets of water to the far corners of the wall, leaving your bathroom all soaked up.
Because its spray holes are wide, the shower head does not get clogged. This means it's easy to clean it. Plus, its adjustable H20 Kinetic is effective since it will allow you to select between a powerful drench spray and a gentle spray. Each water stream feels energetic.

What we Like
It installs in minutes.
It's not noisy.
It has increased pressure, which makes rinsing incredibly easy.
It will cut your water bill by about 35%.
It looks classy.

What we Don't Like
The spray is narrower, unlike most other showers. If you need a wide spread, you have to consider another option.
9. WantBa 6 inches
Sometimes, you may get stuck in a house that has low water pressure. That means your showering days are just a bad experience. However, all that can change by getting this shower head. We can say with confidence that it will give you an amazing shower experience. The WantBa 6 inches won't turn your old shower into a massage center, but it will deliver pressurized water. It is a shower head you can depend on since it will produce a consistent and powerful spray, even in houses running under low pressure. The water pressure jetting through the small holes is perfect. It feels like the right amount since it will not be harsh on your skin. You will probably spend more time in the shower unwinding and enjoying the rainfall like experience.
It's 6-inches wide, and water flows through 57 jets, which means the spray is broad enough to cover your whole body. Because the water spray coming out of the jets is powerful, rinsing off the shampoo and conditioner is easy, even if you have long, thick hair. Rinsing thick hair with low-pressure water is tedious. However, this 6-inch unit will not disappoint you.

What we Like
It takes minutes to install it.
You won't have troubles removing the restrictor. Just get a pair of tweezers to pluck it out.
It's capable of improving the water pressure at your house.
It's affordable.

What we Don't Like
Some people might not like the strong pressure.
This shower head consumes a lot of water because of the increased water flow.
10. High Sierra 1.5 GPM
The High Sierra is a low-flow shower head, but the pressure it extracts is forceful enough to wash your thick and curly hair. It's a solid shower head since it's made of metal, with a chrome finish. One big advantage with this showerhead is that it will save you about 40% on water and energy. Its flow rate is only 1.5 gallons per minute, but it performs just like a unit with a flow rate of 2.5 GPM. The head does not seem to aerate the stream a lot (i.e. fusing of air and water). Because of this, the water flowing through the head can get so hot you may have to turn down the temperature. As a result, this unit is able to reduce your consumption of hot water.
Throughout its different settings, the shower head maintains a constant pressure. Its nozzles release a strong spray of large drops. When the sprays come out, they do not jet out as fixed array of lines. Rather, it releases a turbulent flow that splashes water droplets all over. This means for you to rinse off the soap, you don't have to maneuver around. Just stand still, and the water will hit every inch of your skin.

What we Like
It will deliver a decent shower in homes where the water pressure is awful.
It's striking, well made and sturdy.
There is no difficulty while installing the unit.
It does not use a lot of hot water; this will save you water and energy.

What we Don't Like
It's lather switch is not as efficient as those in 2.5 GPM head.
It allows trickles of water to pass through, but it is something you can overlook since it's not annoying.
You may find it's louder than most units, but this is not a deal breaker since it is spectacular in every way.
11. Hansgrohe 27474001
The Hansgrohe may be our last product on the list of best bathroom shower heads, but it is a monster of its kind. Everything you are looking for in a rainfall shower head, the Hansgrohe will give you. With a head measuring 9.5-inches, it provides a special rain shower experience. For real, it will make you feel like you are standing beneath a real downpour. If you have ever stayed in a hotel, then you are familiar with the feeling of a rain shower. Rather than emit streams of water, its spray simulates the falling rain. This showerhead combines air with water droplets, which makes the drops feel plumper and softer.
Apart from delivering a rainforest-like experience, the Hansgrohe showerhead has a solid build. Instead of plastic, it's made of brass with a nice brushed Nickel finish. Also, when the showerhead gets clogged, cleaning it is simple since its face is covered with rubber nozzles. So if your house is running on well water, this is an advantage. You just need an old toothbrush to rub away the dirt. Despite its price being high, you will not regret having spent on it. After all, it will give you a luxury feeling.

What we Like
It is solid as it's constructed with metal.
It gives the feeling of luxury comfort.
It conserves water.
It's easy to install.

What we Don't Like
Best Shower Head Buying Guide
What should I know before I buy a shower head? This is one of the questions that bother many people who are on a mission to purchase a shower head. We will tell you all that you should know in this section. Once you are done reading our shower head buying guide, you should be able to compare different shower head models and make a decision. Keep reading.
Types of Shower Heads
1. Rain Shower Heads
These types of shower heads bring the experience of rain showers to your home. By design, they offer multiple settings from pulsating rain massage, water-saving trickle, to a drenching rain storm. It creates the feeling of tranquility and relaxation. A rain shower head creates a raincloud in your bathroom. When you shower with it, it's just like getting rained in the field only that this time round you are not out there in the cold. The shape of a rain shower head is either a thin square or a round disk with numerous perforated holes. Some can form water into droplets, thanks to a built-in pulse mechanism. Out there, there are multiple designs made of different finishes and materials. Good examples of rain shower heads include the Delta Touch Clean Raincan, Hangsrohe Raindance Downpour, American Standard 10 Inch, and Moen S6320.
2. Handheld Shower Heads
Using a detachable shower is just a breeze. They are quite flexible since you can direct the sprays to any part of the body. You can mount a handheld shower in several places. The shower heads include a flexible hose which you can clip to a hanger, bar, or swivel that is mounted on the wall. Usually, this flexible hose attaches to the shower arm, and you can move it in all directions. Some unique designs provide a massaging effect. Also, a hand-held shower is useful when you want to wash kids, pets, or even your bathroom. Examples of top-rated handheld shower heads include Ana Bath 5″, Delta Seven-Spray, Delta In2ition Two-In-One, Hansgrohe Chroma and Peerless 3-spray.
3. Sliding Bar Shower Head
A sliding bar shower head provides flexibility. They consist of a wall mounted base and a shower head that is movable. You can move these parts up and down, depending on your preference. This feature is an advantage in homes where there are tall people and kids. Also, anybody with a disability will find this type of shower head useful. You can mount the sliding bar anyhow you want. You can fix it in a diagonal, horizontal, or vertical position. Most sliding bar shower heads have two shower heads. You can fix one head at a high point, and leave the other at an adjustable height. The adjustable head will come in handy when you want to direct the spray to a particular spot.
The best sliding bar shower heads includes the Delta Faucet 51521-WHB, Pulse Aqua Rain Shower, Moen Single Function, and American Standard Slide Bar.
4. Dual Shower Heads
Dual shower heads comprise of two identical heads. Installing a dual shower head is a wise option if you can't decide between having a fixed and handheld shower head. Ana Bath Combo Shower has to be the best dual shower head out there. Then there is also the Hydroluxe 2 in 1, PowerSpa, HotelSpa and LumineTM Air-Turbo.
5. High-Pressure Shower Heads
A quality showerhead means a lot; after all, a refreshing shower depends on how steady the water pressure is. Even if you have installed the most beautiful shower head in the world, it will disappoint you if its water pressure is intolerable. Because not all homes have an adequate water pressure, there are shower heads designed to improve the water pressure. Some have a chamber that forces air to mix with the flowing water, thereby causing a mighty stream. Others are capable of adjusting the spray pattern so the jets can be more vigorous. Some of the best high-pressure shower heads in the market include the Delta Water Amplifying and the Speakman Icon Anystream.
6. Water Saving Shower Heads
If you want to conserve water in your home, go for low-flow shower heads. These do not need high water pressure to work; they can operate even under low pressure. Imagine spending eight minutes in the shower with a high-pressure shower head. You would use a lot of water by the time you are through; probably about 20 gallons of water per session. In five days, that would total up to 100 gallons of water. Low-flow shower heads restrict the water flow. In fact, newer models are capable of using half the amount of water and still offer an enjoyable showering experience. Apart from saving you water, low-flow shower heads will help you save on energy costs since the water does not need much power to get heated.
Some of the best-rated shower heads in this category include High Sierra 1.5 GPM, Speakman Reaction, Delta H20 Kinetic, and Speakman High Pressure.
7. Kids Shower Heads
Although the design of kid's shower heads is different from that of regular shower heads, they function the same way. These units have a head with a unique design. The head can be made to look like a cartoon character or an adorable animal. Kid's shower head have a low-flow rate, and their spray pattern is just basic. Because of this reason, water coming from the head is gentle and less sharp. Some good examples include Rinse Ace 3901 Dolphin Head, Mickey Mouse Combo, and Baby Bath Toy.
8. Bluetooth Shower Heads / Shower Heads with Bluetooth Speakers
Thanks to Bluetooth showerheads, you can now jam to your favorite R&B or Pop band while you take a bath. Shower heads with built-in Bluetooth speakers are capable of pairing your Bluetooth devices via a wireless connection. Some classic models allow you to stream music straight from your laptop, tablet or smartphone. Some good examples of shower heads with Bluetooth speakers include Kohler K-9245-CP, H20Vibe Rain Shower Head, and Ultra Luxury Rainfall.
9. LED Shower Heads
Led shower heads bring a new fresh and exciting look to your bathroom. These types of shower heads have LEDs that change the color and lighting of the shower. The colors and lighting change as the temperature varies. Your bathroom can light up with various colors, including violet, blue, green, purple, red, and so on. LED shower heads rely on sufficient water pressure for them to work. Without enough water pressure, they are inefficient. If the water flowing through the head is powerful enough, the LEDs will illuminate your bathroom, giving it a bright and colorful look. Some of the best-LED shower heads include PowerSpa Shower Head, DreamSpa LED Light, and TM Air-Turbo LED Combo.
10. Luxury Shower Heads
Luxury showerheads are designed to maximize water pressure while delivering a tremendous showering experience. The Aqua Elegant 6, HotelSpa Ultra Luxury, and AKDY are some of the best luxury shower heads in the market.
Best Shower Head Brands
Just when you decide to search for a good showerhead, it's when you realize that there are numerous brands out there. There are many shower head manufacturers. Making up your mind on which brand to go with can be a little confusing, especially if you don't know about the best brands out there. However, you can never go wrong if you choose one of the following shower head brands:
1. Speakman
The Speakman brand was created by two brothers, Allen and Joseph Speakman. They began by setting up a modest plumbing shop in Delaware. Speakman is the pioneer of the modern-day shower. When the two brothers started this brand, they had one goal in mind – to give the consumer a mind-blowing showering experience. After a century and a half, the brand still caters to the world with their unique and innovative craftsmanship. The S-2252 Icon and the S-2005-HB are some of the best shower heads from Speakman. Most luxury hotels around the globe have installed the Speakman shower heads.
2. Moen
Moen is yet another world-class brand when it comes to the design of stylish shower heads, kitchen sinks, and bathroom faucets. They set the pace when they invented the single-handle faucet. However, with time they introduced an extensive list of products, including top-class shower heads. Their shower heads and bathroom fixtures feature a unique and elegant style, perhaps the most stunning out there. The Technology Moen use in their shower heads ensures a proper balance of water and pressure.
3. Kohler
The Kohler brand has been around since the year 1873. John Michael Kohler, an Austrian Immigrant, founded the company. The very first plumbing product the brand introduced was a bathtub. In fact, their one-piece, built-in bath was the first in the plumbing industry. However, over time, the brand dedicated itself to delivering top-class shower heads.
4. Ana Bath
Ana Bath is another popular brand in the market. Although they have not been in the game for long, they sure know how to do their thing. The company's plumbing experts have more than 20 years of experience. They deal with an extensive collection of products, including combo shower heads, rainfall, filters, LEDs, handheld units, bathroom accessories and even kitchen faucets.
5. Delta Faucet
The Delta Faucet is also a renowned brand that specializes in designing of shower heads, faucets, and fixtures for bathroom and kitchen.
Shower Head Spray Patterns
When searching for the best shower heads, you have to think about the type of spray pattern you want. You can go with a solid pattern that will give a refreshing experience, or you can choose a gentle trickle for a rain shower experience. Your showering experience will have something to do with the spray pattern you pick.
So if you want to have an enjoyable shower experience, choose a shower head with the right spray. The spray pattern will affect the direction, range, and volume of water passing through the nozzles. Ordinary models have a simple pattern while the advanced ones have multiple spray patterns that offer more flexibility. Thus, you have to pick a shower head with a spray pattern that you like.
The common spray patterns out there include:
1. Rain
Showers from this type spray offer the widest coverage. Shower heads with this spray pattern usually have a wide, round design. Because the pattern is soft and delicate, they create a soothing effect when the streams fall on the skin. This pattern brings the feeling of rain showers to your bathroom.
2. Massage
A showerhead with a massage setting is the best choice if you need an extra relaxation when taking a shower. Showerheads that create this spray pattern have an invigorating spray that creates a massage experience when the water pressure changes. Furthermore, the massage spray can be of different types including, pulsating, circular and twin massage patterns.
3. Full body spray
These provide maximum water coverage because water comes out through all the nozzles. So, the sprays are spread out across the entire face of the shower head.
4. Jet Spray
This pattern delivers a spray that is circular and focused. Water tends to come out through the central jets, so the discharge is more powerful. The jet spray offers an energized showering experience since it stimulates the skin, and relaxes the muscle. A jet spray is also effective when you want to clean the bathroom.
5. Aeration Spray
This spray pattern also goes by the name "the champagne spray pattern". What's good about this pattern is that it is gentle soothing. Air combines with the flowing water to create this unique pattern. When this happens, you get bigger water droplets and tiny air bubbles. The gentle showering experience does not come at a price since this aeration conserves water. Younger people and those with sensitive skin could consider this spray pattern.
6. Mist Spray
When the water flow is forced to pass through the shower head's tiny nozzles, it creates a mist spray. As the water comes out of the nozzles, it diverges into many fine droplets. The mist spray will make you feel a tingling sensation when the fine droplets hit your skin. Droplets produced by this spray pattern evaporate quickly, and this creates a cooling sensation. This is the kind of spray pattern that would make you feel better and relaxed during summer days.
7. Regular spray
This spray is perhaps the most common. Most standard shower heads have this type of spray pattern. A regular spray is simple but good enough to make you feel relaxed while delivering an invigorating shower experience. A regular spray can be of two patterns – a random spray pattern and a directed hole pattern. The former pattern creates round and softer droplets that retain heat. Because these drops retain heat, you use less hot water, thereby saving on energy bills. Droplets from the random spray pattern are small, and hence they create an elevated invigorating effect. It forms a cone from a burst of water, giving the impression of more water pressure.
Best Shower Heads 2023 : Frequently Asked Questions (FAQs)
Final Thoughts
The reviews we have presented in this article are honest and accurate. That said; our winner for the best shower head in 2019 is the Speak S-2252 Icon. It is worth the price considering it provides a wonderful pressure and it gives you the advantage of varying the spray pattern, from fine to large droplets. On the other hand, if you are looking for the best affordable shower head, our pick is the Culligan WSH-C125.