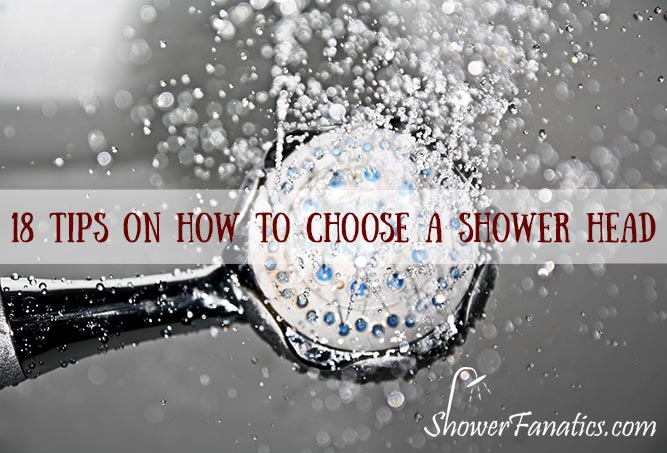 Have you ever wondered about how much change the right shower head can bring to your daily showers? If you are planning to upgrade your shower head to enjoy a blissful bath every morning, here are some great tips on how to choose a shower head which is the right combination of efficiency, performance, and looks.
First of all, before we share these tips, it is important to understand the basic types of shower heads available these days so that you can use the tips accordingly. Buying a new shower head can be a bit tricky so we have made it simple for you by including some of the features of each type of shower head.
Types of Shower Heads
1. Standard Wall-Mounted Shower Heads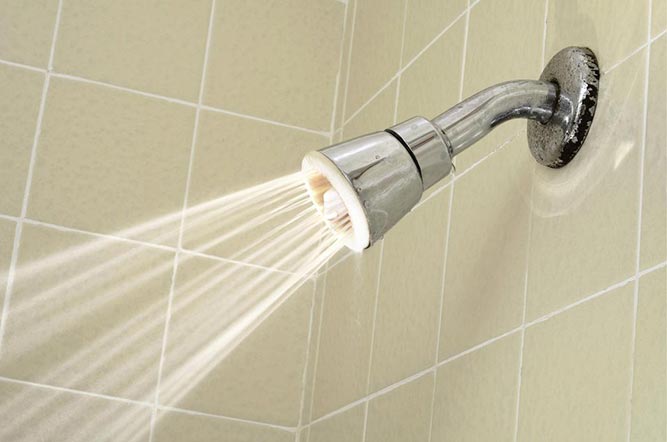 Image Credit: The Spruce
These are the basic shower heads that you see commonly in most houses. They come with a shower arm and can be replaced easily as you just need to unscrew the existing shower head and screw the new shower head on the arm. Make sure that you screw the new head tightly as loose shower heads can not only leak water but can also cause severe injuries. They are cheap and can come with multiple settings which offer you an option to choose between jet, stream, mist, massage, etc. Single setting models offer only one standard setting and are relatively simple to install and are affordable.
2. Rainfall Shower Heads or Top-Mounted Shower Heads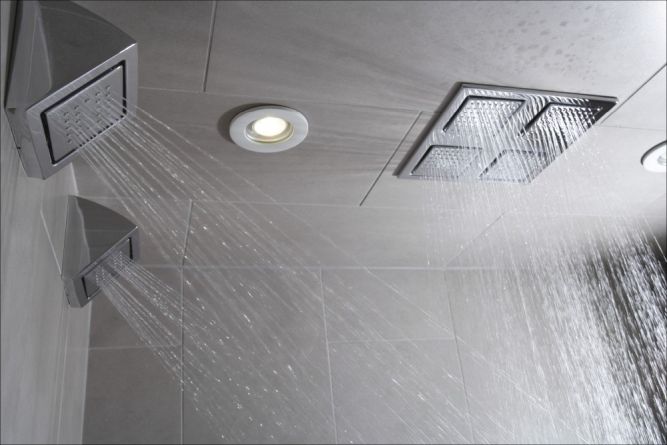 Image Credit: Water Well Ontario
These shower heads are fitted directly on the roof of the shower room and give you a rain-like experience. They are wide so the pressure is distributed evenly to give you a soothing bath. Installing this type of shower head requires significant changes in your existing plumbing system and they are a little expensive as well. There are several advanced models available in rain shower heads which offer a mood lighting option also in addition to multiple spray settings.
3. Handheld Shower Heads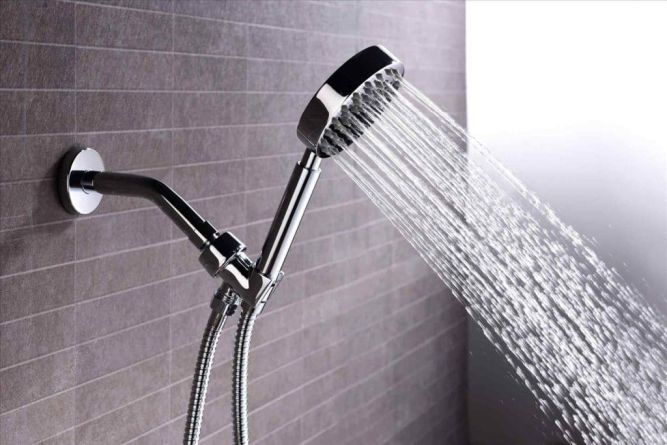 Image Credit: Nat Adviser
As evident by their name, these shower heads come with a hose which helps you hold and use the shower head easily without having to stand near or under it. These shower heads are great for washing yourself, the kids, and rinsing anything else that needs a quick wash. They are easy to install and do not require any major change in your existing plumbing.
4. Shower Towers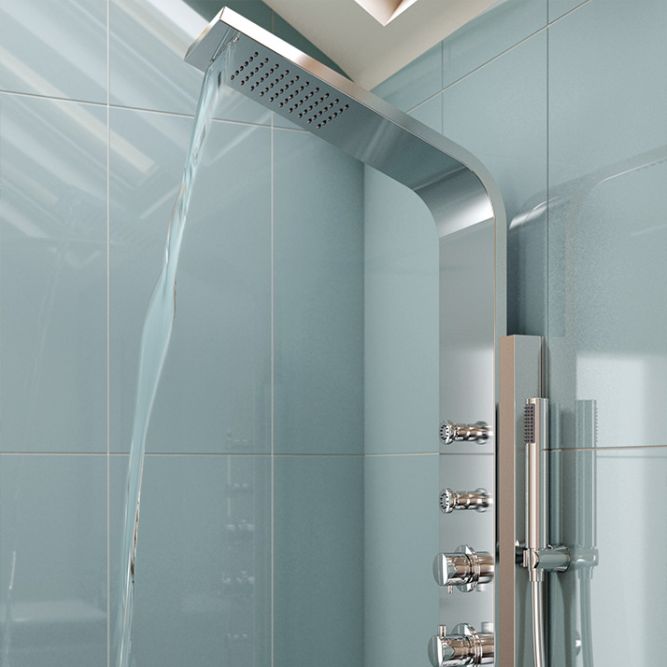 Image Credit: Bathrooms To Love
If you are planning to go extravagant, shower towers with multiple shower heads of different types can lend a luxurious feel to your bathroom. These involve multiple types of heads mounted on a vertical strip which can be mounted on a wall. The strip offers different kinds of jet, stream, and spray options but most models do not allow you to use multiple heads simultaneously due to pressure regulations.
So these are four basic types of shower heads you would normally find in any hardware or bath fittings store. Now that you have understood all about the features of each of these types, it is time to share some useful tips on how to choose a shower head.
Also Read: 9 Genius Shower Storage Ideas
Here are the tips on how to choose a shower head for your bathroom
1. Dimensions of your bathroom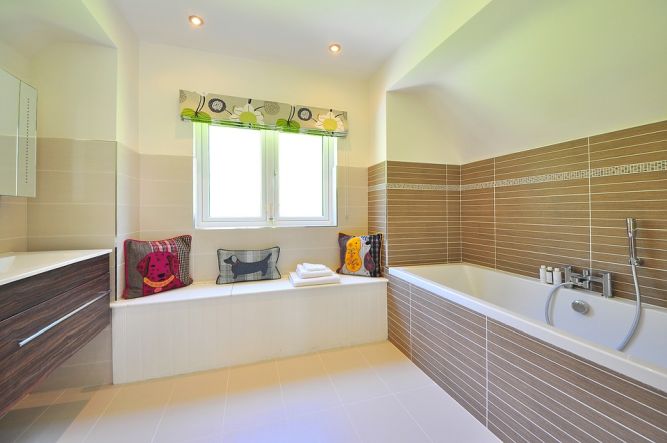 Always take the dimensions of your bathroom into consideration before purchasing a shower head as some shower heads will be more functional and practical if the bathroom is large.
2. Existing water pressure
Test the pressure of the water jet offered by the shower head and compare it with the existing water pressure of your home as a strong steady stream of water is preferred to weak intermittent showers.
3. Ease of installation
Make sure that the shower head you wish to purchase is easy to install and requires less changes in your existing plumbing system if you are low on budget.
4. Temperature maintenance
Shower heads which keep hot water at the right temperature and use technologies to maintain the temperature of the water till it reaches you are good if you prefer taking a hot shower.
5. Height of your ceiling
Check the height of your ceiling and the height of the people who are going to use the shower head to determine the angle and height at which you need to fit the shower head.
6. Focus on features rather than looks
Focus on the features of the shower head rather than the looks as continuous exposure to water with some amount of salt content can lead to corrosion on the outer surface.
7. Water usage
Going for a shower head which uses less water is not only good for the environment but is also good for wallet. Some shower heads create a mixture of air and water to create a powerful stream so they use less water but deliver the same performance.
8. Set a realistic budget
Always set a budget beforehand so that you do not overspend at the store. Shower heads of good quality can cost anywhere between 2$ to 2000$ depending on their features and quality. Going in the store without a budget will only set you back a few hundred dollars.
9. Types of spray settings
If you are sharing a bathroom with other people, discuss on the type of spray settings you all need so that a common shower head which offers all the settings can be purchased.
Also Read: Best Shower Caddy for College Students
10. Look for additional features
Some modern shower heads also come with additional features like mood lighting and wireless speakers which can enhance your showering experience. Select these shower heads only if you really see the need for the additional features.
11. Purifying filters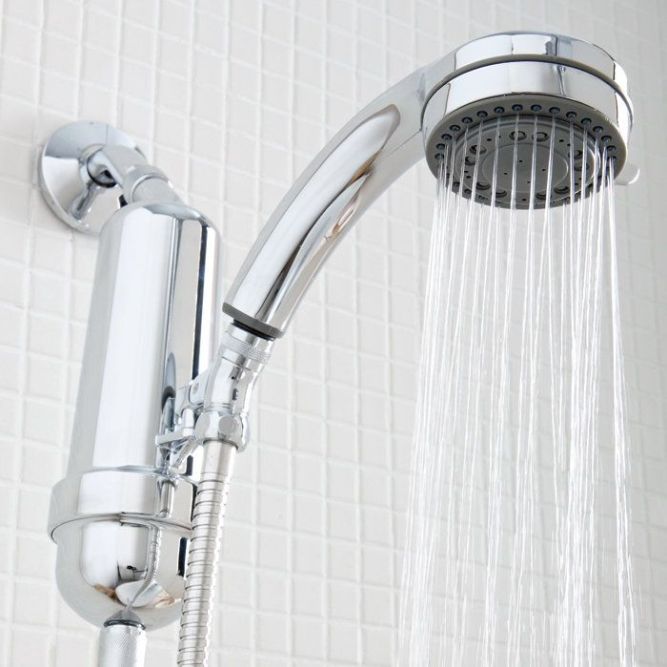 Image Credit: Showering Center
A few models also come with removable chlorine and sulfur filters which help you get clean water every time you shower. Go for these models if the water in your area has a high sulfur or chlorine content.
12. Sturdy construction & durability
Look for a sturdy and durable construction as the shower head is worthless if it begins leaking or breaking after just a few months of installation.
13. Anti-clog nozzle for scaling issues
Get an anti-clog spray nozzle to protect your shower head from scaling issues as this can block the nozzles if the water quality in your area is not very good.
14. Existing bathroom decor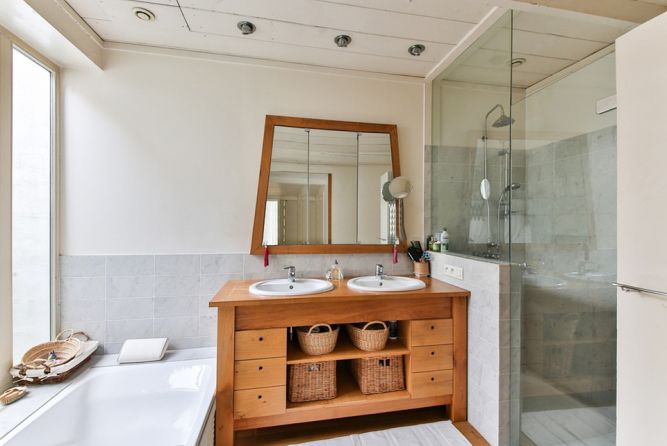 Coordinating your shower head with your existing bathroom decor is a good option if you have frequent guests and want to make a great impression on them.
15. Ease of maintenance
Some shower heads come with finishes that require more maintenance as compared to others so choose wisely.
16. Easily adjustable
Buy a shower head which can be easily adjusted from below without having to call a plumber for every movement.
17. Prioritize your requirements
Decide if you need coverage or pressure or both. Most of the shower heads do not perform well on both of these criteria simultaneously.
18. Promotional offers
Keep the bill of your existing shower head with you for records when you go to buy a new one as some companies also offer good exchange offers on some special occasions.
So this was our detailed shower head buying guide and some great tips on how to choose a shower head which will help you find the best shower heads for your bathroom. You do not purchase a shower head very often so it is always better to invest in a good product which is durable and efficient. Choosing a shower system for your home will be a breeze if you follow these handy tips which are so easy to implement by even a shower head novice!